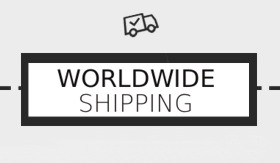 Terms and Conditions
Home
›
Terms and Conditions
The full version of terms and conditions (Polish language): www.nuff.pl/regulamin
-Shop owner is Nuff Respekt Łukasz Jarosiński,Warszawska 3/1, 42-202 Częstochowa, Poland. VAT UE PL5732675450, REGON 240526153, Organ Rejestrowy: Prezydent Miasta Częstochowa: 2006-12-08
1. Shop sells goods via the Internet.
1.1. When you place an order you will automatically receive a confirmation email from us.
2. All prices are in Polish PLN and EURO (at english language), and are gross prices (including VAT). Binding on the parties to the transaction price is appearing in the product at the time of order. We make every effort to ensure that the pricing displayed on our website is correct.
2.1. Prices do not include shipping charges Item, the charge is determined separately.
2.2. You can choose the following forms of payment:
a) Bank transfer
b) Paypal
c) Przelewy24
2.3 Sended orders always includes proof of purchase (sales receipt).
3. Shipping.
3.1. We do our best to send package during next 3 days after we receive payment..
3.2. Ordered goods are delivered by the Post Office.
3.3. The buyer is a shipping and handling charges specified in the price list, unless otherwise stated in the description of the goods.
3.4. Title in any products ordered from us does not pass to you, the purchaser until we have received and processed a valid payment, and that payment has been made into our own bank account and your order has been shipped.
4. Customer Complaints. We endeavour to respond to all customer complaints or queries within 3 working days.
4.1. Faulty Products. Where you experience a fault with a product it can be returned to us subject to our returns policy above.
5. Under the Consumer Protection (Distance Selling) you have a right to cancel your purchase. However, to exercise this right you must notify us in writing, (email or letter) within 14 working days from the day after you receive your goods.